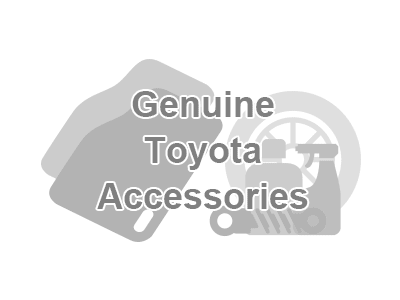 Genuine Toyota
PT791-08040
Towing Options, Dual Port Hitch System - Class II
For Toyota Sienna 2004-2010
Your vehicle's towing capacity may be less depending on factory option content. See a Toyota Parts Professional for specific towing information about your vehicle.
Dual Port Hitch System offers flexibility to carry cargo outside of the vehicle and out of the way—freeing up room inside for comfort.
Sienna Towing Hitch Capacity: Class II, 3,500lbs maximum gross trailer weight (trailer weight plus its cargo weight), 350lbs. maximum tongue load. Towing capacity may be less depending on factory option content and the weight of cargo and passengers.
All Toyota hitches are manufactured by expert welders, press operators and painters.
Dual-layer painting process features a protective paint called electro-deposition coasting or "e-coat" to help protect against corrosion and the environment, along with a powder topcoat to protect against UV rays and maintain long-term appearance. In contrast, aftermarket tow hitches typically use single-layer paint.
Advanced, no-drill hitch and wire harness installation process maintains the structural integrity of the vehicle frame; in contrast, some aftermarket towing systems can compromise the vehicle by drilling holes into the steel frame, causing rust and stress points on the vehicle frame.
Custom replacement fascia pieces, matching vehicle contours and color, are provided if parts of rear fascia need to be removed to accommodate the hitch—integrating the appearance of the vehicle bumper and hitch. Aftermarket towing systems can't provide this integration.
Genuine Toyota hitches have up to 16 connection points to the vehicle frame to transfer the force of towing across the vehicle to reduce stress and preserve the integrity of the body structure; most aftermarket hitches have fewer than 6 connection points.
Product Specifications
Class (towing Hitch)

Class II

Tongue Weight

350 Lbs
Parts Required
Towing Wire Harness for Sienna 2004, 2005, 2006, 2007, 2008, 2009, 2010
Towing Options, Ball Mount for Sienna 2004, 2005, 2006, 2007, 2008, 2009, 2010
Warranty
Genuine Toyota parts are backed by Toyota's factory warranty which are high-quality vehicle-specific with the right fit the first time.
Part Fitment for PT791-08040
| Year | Make | Model | Submodel |
| --- | --- | --- | --- |
| 2010 | Toyota | Sienna | |
| 2009 | Toyota | Sienna | |
| 2008 | Toyota | Sienna | |
| 2007 | Toyota | Sienna | |
| 2006 | Toyota | Sienna | |
| 2005 | Toyota | Sienna | |
| 2004 | Toyota | Sienna | |