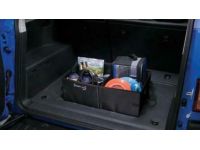 Genuine Toyota
PT427-00120
Cargo Tote-Black
For Scion FR-S 2013-2016; iA 2016; iM 2016; tC 2005-2016; xA 2004-2006; xB 2004-2006, 2008-2015; xD 2008-2014; Toyota 4Runner 1995-2020; 86 2017-2020; Avalon 1995-2020; C-HR 2018-2020; Camry 1995-2020; Camry Hybrid 2007-2019; Corolla 1998-2020; Corolla iM 2017-2018; FJ Cruiser 2007-2014; Highlander 2001-2020; Land Cruiser 2007-2011, 2013-2020; Matrix 2003-2013; Mirai 2019-2020; Prius 2001-2020; Prius C 2012-2019; Prius Prime 2017-2020; Prius V 2012-2017; RAV4 1996-2020; Sequoia 2001-2020; Sienna 1998-2020; Solara 1999-2009; Supra 2020; Tacoma 2012-2020; Tundra 2012-2020; Venza 2009-2016; Yaris 2007-2019; Yaris iA 2017-2019
Versatile cargo tote secures a variety of items and helps keep them in place.
Removable divider panels help hold items upright
Two carrying handles for easy loading and unloading
Collapsible tote for easy storing when not in use
COLOR: Black
Cargo and load capacity are limited by weight and distribution. Always properly secure cargo and cargo area.
Product Specifications
Warranty
Genuine Toyota parts are backed by Toyota's factory warranty which are high-quality vehicle-specific with the right fit the first time.
Part Fitment for PT427-00120
| Year | Make | Model | Submodel |
| --- | --- | --- | --- |
| 2020 | Toyota | 4Runner | |
| 2020 | Toyota | 86 | |
| 2020 | Toyota | Avalon | |
| 2020 | Toyota | C-HR | |
| 2020 | Toyota | Camry | JPP, NAP |
| 2020 | Toyota | Corolla | Hatchback, Sedan JPP, Sedan NAP |
| 2020 | Toyota | Highlander | |
| 2020 | Toyota | Land Cruiser | |
| 2020 | Toyota | Mirai | |
| 2020 | Toyota | Prius | |
| 2020 | Toyota | Prius Prime | |
| 2020 | Toyota | RAV4 | JPP, NAP |
| 2020 | Toyota | Sequoia | |
| 2020 | Toyota | Sienna | |
| 2020 | Toyota | Supra | |
| 2020 | Toyota | Tacoma | |
| 2020 | Toyota | Tundra | |
| 2019 | Toyota | 4Runner | |
| 2019 | Toyota | 86 | |
| 2019 | Toyota | Avalon | |
| 2019 | Toyota | C-HR | |
| 2019 | Toyota | Camry | JPP, NAP |
| 2019 | Toyota | Camry Hybrid | |
| 2019 | Toyota | Corolla | Hatchback, Sedan |
| 2019 | Toyota | Highlander | |
| 2019 | Toyota | Land Cruiser | |
| 2019 | Toyota | Mirai | |
| 2019 | Toyota | Prius | |
| 2019 | Toyota | Prius C | |
| 2019 | Toyota | Prius Prime | |
| 2019 | Toyota | RAV4 | Hybird, JPP, NAP |
| 2019 | Toyota | Sequoia | |
| 2019 | Toyota | Sienna | |
| 2019 | Toyota | Tacoma | |
| 2019 | Toyota | Tundra | |
| 2019 | Toyota | Yaris | |
| 2019 | Toyota | Yaris iA | |
| 2018 | Toyota | 4Runner | |
| 2018 | Toyota | 86 | |
| 2018 | Toyota | Avalon | |
| 2018 | Toyota | C-HR | |
| 2018 | Toyota | Camry | JPP, NAP |
| 2018 | Toyota | Camry Hybrid | |
| 2018 | Toyota | Corolla | |
| 2018 | Toyota | Corolla iM | |
| 2018 | Toyota | Highlander | |
| 2018 | Toyota | Land Cruiser | |
| 2018 | Toyota | Prius | |
| 2018 | Toyota | Prius C | |
| 2018 | Toyota | Prius Prime | |
Show More