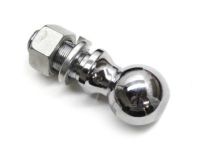 Genuine Toyota
PT791-00850
Trailer Ball-2 5/16 inch Ball Diameter
For Toyota 4Runner 2004-2020; Land Cruiser 2008-2011, 2013-2020; RAV4 2006-2012; Sequoia 2008-2020; Tacoma 2005-2016; Tundra 2007-2020
Work or play, use the Genuine Toyota Ball Mount to haul your boat, RV, construction materials and more.
Ball placement provides precise drop/rise to maintain vehicle departure angle
Black powder coat finish provides protection against UV rays
Lab and on-road testing ensure quality of tow hitch system
Trailer ball sold separately
Fits 4Runner, Land Cruiser, RAV4, Sequoia, Tacoma, Tundra
BALL DIAMETER: 2 5/16"
LOAD RATING (BALL): 14000 lbs
SHANK DIAMETER: 1 1/4"
SHANK LENGTH: 2 3/4"
Before towing, confirm your vehicle and trailer are compatible, hooked up, loaded properly, and you have any necessary additional equipment. Do not exceed any Weight Ratings and follow all instructions in your Owner's Manual. The maximum you can tow depends on the total weight of any cargo, occupants, and available equipment.
Product Specifications
Ball Diameter

2 5/16"

Load Rating (ball)

14000 lbs

Shank Diameter

1 1/4"

Shank Length

2 3/4"
Parts Required
Warranty
Genuine Toyota parts are backed by Toyota's factory warranty which are high-quality vehicle-specific with the right fit the first time.
Part Fitment for PT791-00850
| Year | Make | Model | Submodel |
| --- | --- | --- | --- |
| 2020 | Toyota | 4Runner | |
| 2020 | Toyota | Land Cruiser | |
| 2020 | Toyota | Sequoia | |
| 2020 | Toyota | Tundra | |
| 2019 | Toyota | 4Runner | |
| 2019 | Toyota | Land Cruiser | |
| 2019 | Toyota | Sequoia | |
| 2019 | Toyota | Tundra | |
| 2018 | Toyota | 4Runner | |
| 2018 | Toyota | Land Cruiser | |
| 2018 | Toyota | Sequoia | |
| 2018 | Toyota | Tundra | |
| 2017 | Toyota | 4Runner | |
| 2017 | Toyota | Land Cruiser | |
| 2017 | Toyota | Sequoia | |
| 2017 | Toyota | Tundra | |
| 2016 | Toyota | 4Runner | |
| 2016 | Toyota | Land Cruiser | |
| 2016 | Toyota | Sequoia | |
| 2016 | Toyota | Tacoma | |
| 2016 | Toyota | Tundra | |
| 2015 | Toyota | 4Runner | |
| 2015 | Toyota | Land Cruiser | |
| 2015 | Toyota | Sequoia | |
| 2015 | Toyota | Tacoma | |
| 2015 | Toyota | Tundra | |
| 2014 | Toyota | 4Runner | |
| 2014 | Toyota | Land Cruiser | |
| 2014 | Toyota | Sequoia | |
| 2014 | Toyota | Tacoma | |
| 2014 | Toyota | Tundra | |
| 2013 | Toyota | 4Runner | |
| 2013 | Toyota | Land Cruiser | |
| 2013 | Toyota | Sequoia | |
| 2013 | Toyota | Tacoma | |
| 2013 | Toyota | Tundra | |
| 2012 | Toyota | 4Runner | |
| 2012 | Toyota | RAV4 | JPP, NAP |
| 2012 | Toyota | Sequoia | |
| 2012 | Toyota | Tacoma | |
| 2012 | Toyota | Tundra | |
| 2011 | Toyota | 4Runner | |
| 2011 | Toyota | Land Cruiser | |
| 2011 | Toyota | RAV4 | JPP, NAP |
| 2011 | Toyota | Sequoia | |
| 2011 | Toyota | Tacoma | |
| 2011 | Toyota | Tundra | |
| 2010 | Toyota | 4Runner | |
| 2010 | Toyota | Land Cruiser | |
| 2010 | Toyota | RAV4 | JPP, NAP |
Show More