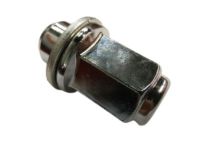 Genuine Toyota
PTR27-34061
TRD Wheel Lock Set
For Scion tC 2005-2010, 2012-2016; xA 2004-2006; xB 2004-2006, 2008-2015; xD 2008-2014; Toyota Celica 2000-2005; Corolla 2000-2013; Matrix 2003-2011; Sequoia 2001-2007; Tacoma 1995-2020; Tundra 2000-2006; Yaris 2007-2011
Product Option:
Finish:Triple Nickel Plated
Constructed of forged hardened steel and made specifically for TRD wheels, the alloy wheel lock set helps give you inexpensive, yet effective protection for your wheels. The set includes four conical seat 12-mm. puzzle-style wheel locks and matching puzzle key. They're also triple nickel plated for a bright durable finish and each lock features a laser-etched TRD logo.
FINISH: Triple Nickel Plated
LOCK AND KEY: With Lock And Key
LOGO: TRD
LOGO TYPE: Laser-etched
MATERIAL: Forged Hardened Steel
QUANTITY: 4
SIZE: 12 mm
TRD: TRD
Product Specifications
Finish

Triple Nickel Plated

Lock And Key

With Lock And Key

Logo

TRD

Logo Type

Laser-etched

Material

Forged Hardened Steel

Quantity

4

Size

12 mm

Trd

TRD
Warranty
Genuine Toyota parts are backed by Toyota's factory warranty which are high-quality vehicle-specific with the right fit the first time.
Part Fitment for PTR27-34061
| Year | Make | Model | Submodel |
| --- | --- | --- | --- |
| 2020 | Toyota | Tacoma | |
| 2019 | Toyota | Tacoma | |
| 2018 | Toyota | Tacoma | |
| 2017 | Toyota | Tacoma | |
| 2016 | Scion | tC | |
| 2016 | Toyota | Tacoma | |
| 2015 | Scion | tC | |
| 2015 | Scion | xB | |
| 2015 | Toyota | Tacoma | |
| 2014 | Scion | tC | |
| 2014 | Scion | xB | |
| 2014 | Scion | xD | |
| 2014 | Toyota | Tacoma | |
| 2013 | Scion | tC | |
| 2013 | Scion | xB | |
| 2013 | Scion | xD | |
| 2013 | Toyota | Corolla | JPP, NAP |
| 2013 | Toyota | Tacoma | |
| 2012 | Scion | tC | |
| 2012 | Scion | xB | |
| 2012 | Scion | xD | |
| 2012 | Toyota | Corolla | JPP, NAP |
| 2012 | Toyota | Tacoma | |
| 2011 | Scion | xB | |
| 2011 | Scion | xD | |
| 2011 | Toyota | Corolla | JPP, NAP |
| 2011 | Toyota | Matrix | |
| 2011 | Toyota | Tacoma | |
| 2011 | Toyota | Yaris | Hatchback, Sedan |
| 2010 | Scion | tC | |
| 2010 | Scion | xB | |
| 2010 | Scion | xD | |
| 2010 | Toyota | Corolla | JPP, NAP |
| 2010 | Toyota | Matrix | |
| 2010 | Toyota | Tacoma | |
| 2010 | Toyota | Yaris | Hatchback, Sedan |
| 2009 | Scion | tC | |
| 2009 | Scion | xB | |
| 2009 | Scion | xD | |
| 2009 | Toyota | Corolla | JPP, NAP |
| 2009 | Toyota | Matrix | |
| 2009 | Toyota | Tacoma | |
| 2009 | Toyota | Yaris | Hatchback, Sedan |
| 2008 | Scion | tC | |
| 2008 | Scion | xB | |
| 2008 | Scion | xD | |
| 2008 | Toyota | Corolla | JPP, NAP |
| 2008 | Toyota | Matrix | |
| 2008 | Toyota | Tacoma | |
| 2008 | Toyota | Yaris | Hatchback, Sedan |
Show More