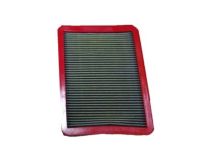 Genuine Toyota
PTR43-00086
TRD Air Filter
For Toyota 4Runner 2003-2010; Land Cruiser 1998-2007; Sequoia 2001-2007; Tundra 2000-2006
Free-flowing TRD high-performance air filter design provides engine protection, while potentially increasing engine output.
Allows the maximum amount of air into the engine with the minimal amount of resistance.
Washable and reusable, the TRD high-performance air filter is designed to last the lifetime of the vehicle; regular cleaning ensures free airflow and top performance.
Pre-oiled and ready to install, offers exact drop-in replacement for stock air filter.
Maintains Toyota's high quality standards for performance and strength.
Product Specifications
Warranty
Genuine Toyota parts are backed by Toyota's factory warranty which are high-quality vehicle-specific with the right fit the first time.
Part Fitment for PTR43-00086
| Year | Make | Model | Submodel |
| --- | --- | --- | --- |
| 2010 | Toyota | 4Runner | |
| 2009 | Toyota | 4Runner | |
| 2008 | Toyota | 4Runner | |
| 2007 | Toyota | 4Runner | |
| 2007 | Toyota | Land Cruiser | |
| 2007 | Toyota | Sequoia | |
| 2006 | Toyota | 4Runner | |
| 2006 | Toyota | Land Cruiser | |
| 2006 | Toyota | Sequoia | |
| 2006 | Toyota | Tundra | |
| 2005 | Toyota | 4Runner | |
| 2005 | Toyota | Land Cruiser | |
| 2005 | Toyota | Sequoia | |
| 2005 | Toyota | Tundra | |
| 2004 | Toyota | 4Runner | |
| 2004 | Toyota | Land Cruiser | |
| 2004 | Toyota | Sequoia | |
| 2004 | Toyota | Tundra | |
| 2003 | Toyota | 4Runner | |
| 2003 | Toyota | Land Cruiser | |
| 2003 | Toyota | Sequoia | |
| 2003 | Toyota | Tundra | |
| 2002 | Toyota | Land Cruiser | |
| 2002 | Toyota | Sequoia | |
| 2002 | Toyota | Tundra | |
| 2001 | Toyota | Land Cruiser | |
| 2001 | Toyota | Sequoia | |
| 2001 | Toyota | Tundra | |
| 2000 | Toyota | Land Cruiser | |
| 2000 | Toyota | Tundra | |
| 1999 | Toyota | Land Cruiser | |
| 1998 | Toyota | Land Cruiser | |
Show More