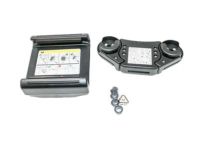 Genuine Toyota
PT949-47160-02
Universal Tablet Holder-Black. Rear Seat Entertainment.
For Scion FR-S 2014-2016; iA 2016; iM 2016; tC 2014-2016; Toyota 4Runner 2014-2020; 86 2017-2020; Avalon 2014-2020; C-HR 2018-2020; Camry 2014-2020; Camry Hybrid 2014-2019; Corolla 2014-2020; Corolla iM 2017-2018; Highlander 2014-2020; Land Cruiser 2014-2015, 2018-2020; Prius 2014-2020; Prius C 2014-2019; Prius Prime 2017-2020; Prius V 2014-2017; RAV4 2014-2020; Sequoia 2014-2020; Sienna 2014-2020; Tacoma 2014-2020; Tundra 2014-2020; Venza 2014-2016; Yaris 2014-2019; Yaris iA 2017-2019
Compatible with virtually all multimedia devices, it holds your tablet, phone, and music or video player in place.
Installs and removes in seconds-no tools required
Durable construction with spring-loaded arms to hold your device in place
Adjustable pivot/tilt enables passengers to view their device at eye level
COLOR: Black
Universal Tablet Holder is intended for passengers only. Drivers should always be sure to obey traffic regulations and maintain awareness of road and traffic conditions at all times. Use of aftermarket accessories may pose an increased risk of injury to occupants in the event of an accident. Tablet sold separately.
Product Specifications
Installation Instruction
Warranty
Genuine Toyota parts are backed by Toyota's factory warranty which are high-quality vehicle-specific with the right fit the first time.
Part Fitment for PT949-47160-02
| Year | Make | Model | Submodel |
| --- | --- | --- | --- |
| 2020 | Toyota | 4Runner | |
| 2020 | Toyota | 86 | |
| 2020 | Toyota | Avalon | |
| 2020 | Toyota | C-HR | |
| 2020 | Toyota | Camry | JPP, NAP |
| 2020 | Toyota | Corolla | Hatchback, Sedan JPP, Sedan NAP |
| 2020 | Toyota | Highlander | |
| 2020 | Toyota | Land Cruiser | |
| 2020 | Toyota | Prius | |
| 2020 | Toyota | Prius Prime | |
| 2020 | Toyota | RAV4 | JPP, NAP |
| 2020 | Toyota | Sequoia | |
| 2020 | Toyota | Sienna | |
| 2020 | Toyota | Tacoma | |
| 2020 | Toyota | Tundra | |
| 2019 | Toyota | 4Runner | |
| 2019 | Toyota | 86 | |
| 2019 | Toyota | Avalon | |
| 2019 | Toyota | C-HR | |
| 2019 | Toyota | Camry | JPP, NAP |
| 2019 | Toyota | Camry Hybrid | |
| 2019 | Toyota | Corolla | Hatchback, Sedan |
| 2019 | Toyota | Highlander | |
| 2019 | Toyota | Land Cruiser | |
| 2019 | Toyota | Prius | |
| 2019 | Toyota | Prius C | |
| 2019 | Toyota | Prius Prime | |
| 2019 | Toyota | RAV4 | Hybird, JPP, NAP |
| 2019 | Toyota | Sequoia | |
| 2019 | Toyota | Sienna | |
| 2019 | Toyota | Tacoma | |
| 2019 | Toyota | Tundra | |
| 2019 | Toyota | Yaris | |
| 2019 | Toyota | Yaris iA | |
| 2018 | Toyota | 4Runner | |
| 2018 | Toyota | 86 | |
| 2018 | Toyota | Avalon | |
| 2018 | Toyota | C-HR | |
| 2018 | Toyota | Camry | JPP, NAP |
| 2018 | Toyota | Camry Hybrid | |
| 2018 | Toyota | Corolla | |
| 2018 | Toyota | Corolla iM | |
| 2018 | Toyota | Highlander | |
| 2018 | Toyota | Land Cruiser | |
| 2018 | Toyota | Prius | |
| 2018 | Toyota | Prius C | |
| 2018 | Toyota | Prius Prime | |
| 2018 | Toyota | RAV4 | Hybird, JPP, NAP |
| 2018 | Toyota | Sequoia | |
| 2018 | Toyota | Sienna | |
Show More