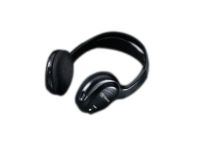 Genuine Toyota
PT943-00141
Wireless Headphones
For Scion xB 2012; Toyota 4Runner 2012-2013; Camry 2012; Camry Hybrid 2012; Highlander 2012-2019; Land Cruiser 2013-2015; RAV4 2012-2013; Sequoia 2012-2020; Sienna 2012-2015; Tundra 2012-2013; Venza 2012-2015
Product Option:
Fold Flat:Yes;
Additional wireless headphones let multiple passengers enjoy a personalized entertainment experience.
Cushioned and adjustable, with individual volume control, on/off switch and LED indicator
Fits 4Runner, Camry, Highlander, Land Cruiser, RAV4, Sequoia, Sienna, Tundra, Venza, XB
CHANNEL: Single
FOLD FLAT: Yes
Wireless headphones are for passenger use only. DO NOT use them while driving vehicle.
Product Specifications
Channel

Single

Fold Flat

Yes
Warranty
Genuine Toyota parts are backed by Toyota's factory warranty which are high-quality vehicle-specific with the right fit the first time.
Part Fitment for PT943-00141
| Year | Make | Model | Submodel |
| --- | --- | --- | --- |
| 2020 | Toyota | Sequoia | |
| 2019 | Toyota | Highlander | |
| 2019 | Toyota | Sequoia | |
| 2018 | Toyota | Highlander | |
| 2018 | Toyota | Sequoia | |
| 2017 | Toyota | Highlander | |
| 2017 | Toyota | Sequoia | |
| 2016 | Toyota | Highlander | |
| 2016 | Toyota | Sequoia | |
| 2015 | Toyota | Highlander | |
| 2015 | Toyota | Land Cruiser | |
| 2015 | Toyota | Sequoia | |
| 2015 | Toyota | Sienna | |
| 2015 | Toyota | Venza | |
| 2014 | Toyota | Highlander | |
| 2014 | Toyota | Land Cruiser | |
| 2014 | Toyota | Sequoia | |
| 2014 | Toyota | Sienna | |
| 2014 | Toyota | Venza | |
| 2013 | Toyota | 4Runner | |
| 2013 | Toyota | Highlander | Hybrid, JPP, NAP |
| 2013 | Toyota | Land Cruiser | |
| 2013 | Toyota | RAV4 | JPP, NAP |
| 2013 | Toyota | Sequoia | |
| 2013 | Toyota | Sienna | |
| 2013 | Toyota | Tundra | |
| 2013 | Toyota | Venza | |
| 2012 | Scion | xB | |
| 2012 | Toyota | 4Runner | |
| 2012 | Toyota | Camry | |
| 2012 | Toyota | Camry Hybrid | |
| 2012 | Toyota | Highlander | Hybrid, JPP, NAP |
| 2012 | Toyota | RAV4 | EV NAP, JPP, NAP |
| 2012 | Toyota | Sequoia | |
| 2012 | Toyota | Sienna | |
| 2012 | Toyota | Tundra | |
| 2012 | Toyota | Venza | |
Show More