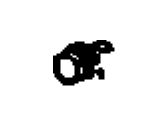 Genuine Toyota
91611-60616
Bolt, With Washer
Part Description

Bolt(For Transaxle Case Receiver)

Comment

(FOR TRANSAXLE CASE RECEIVER)

Replaced By

91611-B0616

Brand

Toyota

Warranty

Genuine Toyota parts are backed by Toyota's factory warranty which are high-quality vehicle-specific with the right fit the first time.

Manufacturer's Notes

This part is discontinued. It is no longer available for purchase.
Part Fitment for 91611-60616
| Year | Make | Model | Trim | Engine | Important vehicle option details |
| --- | --- | --- | --- | --- | --- |
| 2005 | Toyota | Tundra | DLX, Limited, SR5 | 6 Cyl 3.4L, 8 Cyl 4.7L | 2UZFE, 5VZFE; 2UZFE, 5VZFE; UCK30, UCK31, UCK40, UCK41, VCK30, VCK40 |
| 2004 | Toyota | Corolla | XRS | 4 Cyl 1.8L DOHC EFI | 2ZZGE; 2ZZGE; ZZE133L-DHPSFA, ZZE133L-DHPSFK |
| 2004 | Toyota | Matrix | XRS | 4 Cyl 1.8L | 2ZZGE; 2ZZGE; ZZE133 |
| 2004 | Toyota | RAV4 | Inductive | 4 Cyl 2.0L, 4 Cyl 2.4L, Electric | 1AZFE, 2AZFE, EM; 1AZFE, 2AZFE, EM; ACA21, ACA23, ACA26, ACA28, BEA11L-AWDHSA |
| 2004 | Toyota | Tacoma | DLX | 4 Cyl 2.7L EFI, 6 Cyl 3.4L EFI | 3RZFE, 5VZFE; 3RZFE, 5VZFE; RZN191L-TRPDKAB, RZN196L-CRPDKAB, RZN196L-PRPDKAB, VZN195L-CRPDKAB, VZN195L-PRPDKAB |
| 2004 | Toyota | Tundra | DLX, Limited, SR5 | 6 Cyl 3.4L, 8 Cyl 4.7L | 2UZFE, 5VZFE; 2UZFE, 5VZFE; UCK30, UCK31, UCK40, UCK41, VCK30, VCK40 |
| 2003 | Toyota | Celica | | 4 Cyl 1.8L | 2ZZGE; 2ZZGE; ZZT231 |
| 2003 | Toyota | Corolla | XRS | 4 Cyl 1.8L DOHC EFI | 2ZZGE; 2ZZGE; ZZE133L-DHPSFA, ZZE133L-DHPSFK |
| 2003 | Toyota | Land Cruiser | | 8 Cyl 4.7L | 2UZFE; 2UZFE; UZJ100 |
| 2003 | Toyota | Matrix | XRS | 4 Cyl 1.8L | 2ZZGE; 2ZZGE; ZZE133 |
| 2003 | Toyota | RAV4 | Inductive | 4 Cyl 2.0L, 4 Cyl 2.4L, Electric | 1AZFE, 2AZFE, EM; 1AZFE, 2AZFE, EM; ACA21, ACA23, ACA26, ACA28, BEA11L-AWDHSA |
| 2003 | Toyota | Tacoma | DLX | 4 Cyl 2.7L EFI, 6 Cyl 3.4L EFI | 3RZFE, 5VZFE; 3RZFE, 5VZFE; RZN191L-TRPDKAB, RZN196L-CRPDKAB, RZN196L-PRPDKAB, VZN170L-CRPDKAB, VZN170L-PRPDKAB, VZN195L-CRPDKAB, VZN195L-PRPDKAB |
| 2003 | Toyota | Tundra | DLX, Limited, SR5 | 6 Cyl 3.4L, 8 Cyl 4.7L | 2UZFE, 5VZFE; 2UZFE, 5VZFE; UCK30, UCK31, UCK40, UCK41, VCK30, VCK40 |
| 2002 | Toyota | 4Runner | LULI, SR5B, SR5V | 6 Cyl 3.4L | 5VZFE; 5VZFE; VZN180, VZN185 |
| 2002 | Toyota | Celica | | 4 Cyl 1.8L | 2ZZGE; 2ZZGE; ZZT231 |
| 2002 | Toyota | Corolla | CE, LE, S | 4 Cyl 1.8L | 1ZZFE; 1ZZFE; ZZE110 |
| 2002 | Toyota | Land Cruiser | | 8 Cyl 4.7L | 2UZFE; 2UZFE; UZJ100 |
| 2002 | Toyota | RAV4 | Inductive | 4 Cyl 2.0L, Electric | 1AZFE, EM; 1AZFE, EM; ACA21, ACA26, BEA11L-AWDHSA |
| 2002 | Toyota | Solara | | 4 Cyl 2.2L | 5SFE; 5SFE; SXV20 |
| 2002 | Toyota | Tacoma | DLX | 4 Cyl 2.7L EFI, 6 Cyl 3.4L EFI | 3RZFE, 5VZFE; 3RZFE, 5VZFE; RZN191L-TRPDKAB, RZN196L-CRPDKAB, RZN196L-PRPDKAB, VZN170L-CRPDKAB, VZN170L-PRPDKAB, VZN195L-CRPDKAB, VZN195L-PRPDKAB |
| 2002 | Toyota | Tundra | DLX, Limited, SR5 | 6 Cyl 3.4L, 8 Cyl 4.7L | 2UZFE, 5VZFE; 2UZFE, 5VZFE; UCK30, UCK40, VCK30, VCK40 |
| 2001 | Toyota | 4Runner | LULI, SR5B, SR5V | 4 Cyl 2.7L, 6 Cyl 3.4L | 3RZFE, 5VZFE; 3RZFE, 5VZFE; RZN180, RZN185, VZN180, VZN185 |
| 2001 | Toyota | Camry | CE, LE | 4 Cyl 2.2L, 6 Cyl 3.0L | 1MZFE, 5SFE; 1MZFE, 5SFE; MCV20, SXV20 |
| 2001 | Toyota | Celica | | 4 Cyl 1.8L | 2ZZGE; 2ZZGE; ZZT231 |
| 2001 | Toyota | Corolla | CE, LE, S, VE | 4 Cyl 1.8L | 1ZZFE; 1ZZFE; ZZE110 |
| 2001 | Toyota | Land Cruiser | | 8 Cyl 4.7L | 2UZFE; 2UZFE; UZJ100 |
| 2001 | Toyota | RAV4 | Inductive | 4 Cyl 2.0L, Electric | 1AZFE, EM; 1AZFE, EM; ACA21, ACA26, BEA11L-AWDHSA |
| 2001 | Toyota | Solara | | 4 Cyl 2.2L | 5SFE; 5SFE; SXV20 |
| 2001 | Toyota | Tacoma | DLX, SR5 | 4 Cyl 2.7L EFI, 6 Cyl 3.4L EFI | 3RZFE, 5VZFE; 3RZFE, 5VZFE; RZN161L-TRMDKAB, RZN161L-TRPDKAB, RZN171L-CRMDKAB, RZN171L-CRPDKAB, RZN191L-TRPDKAB, RZN196L-CRPDKAB, RZN196L-PRPDKAB, VZN150L-CRSDKAB, VZN170L-CRMDKAB, VZN170L-CRMGKAB, VZN170L-CRPDKAB, VZN170L-CRPGKAB, VZN170L-PRPDKAB, VZN195L-CRPDKAB, VZN195L-PRPDKAB |
| 2001 | Toyota | Tundra | DLX, Limited, SR5 | 6 Cyl 3.4L, 8 Cyl 4.7L | 2UZFE, 5VZFE; 2UZFE, 5VZFE; UCK30, UCK40, VCK30, VCK40 |
| 2000 | Toyota | 4Runner | LULI, SR5B, SR5V | 4 Cyl 2.7L, 6 Cyl 3.4L | 3RZFE, 5VZFE; 3RZFE, 5VZFE; RZN180, RZN185, VZN180, VZN185 |
| 2000 | Toyota | Camry | CE, LE | 4 Cyl 2.2L, 6 Cyl 3.0L | 1MZFE, 5SFE; 1MZFE, 5SFE; MCV20, SXV20 |
| 2000 | Toyota | Celica | | 4 Cyl 1.8L | 2ZZGE; 2ZZGE; ZZT231 |
| 2000 | Toyota | Corolla | CE, LE, S, VE | 4 Cyl 1.8L | 1ZZFE; 1ZZFE; ZZE110 |
| 2000 | Toyota | Land Cruiser | | 8 Cyl 4.7L | 2UZFE; 2UZFE; UZJ100 |
| 2000 | Toyota | RAV4 | Conductive, Inductive | 4 Cyl 2.0L, Electric | 3SFE, EM; 3SFE, EM; BEA11L-AWDFSA, BEA11L-AWDHSA, SXA10, SXA11, SXA15, SXA16 |
| 2000 | Toyota | Solara | | 4 Cyl 2.2L | 5SFE; 5SFE; SXV20 |
| 2000 | Toyota | Tacoma | DLX, SR5 | 4 Cyl 2.7L EFI, 6 Cyl 3.4L EFI | 3RZFE, 5VZFE; 3RZFE, 5VZFE; RZN161L-TRMDKAB, RZN161L-TRPDKAB, RZN171L-CRMDKAB, RZN171L-CRPDKAB, RZN191L-TRPDKAB, RZN196L-CRPDKAB, RZN196L-PRPDKAB, VZN150L-CRSDKAB, VZN170L-CRMDKAB, VZN170L-CRMGKAB, VZN170L-CRPDKAB, VZN170L-CRPGKAB, VZN170L-PRPDKAB, VZN195L-CRPDKAB, VZN195L-PRPDKAB |
| 2000 | Toyota | Tundra | DLX, Limited, SR5 | 6 Cyl 3.4L, 8 Cyl 4.7L | 2UZFE, 5VZFE; 2UZFE, 5VZFE; UCK30, UCK40, VCK30, VCK40 |
| 1999 | Toyota | 4Runner | LULI, SR5B, SR5V | 4 Cyl 2.7L, 6 Cyl 3.4L | 3RZFE, 5VZFE; 3RZFE, 5VZFE; RZN180, RZN185, VZN180, VZN185 |
| 1999 | Toyota | Avalon | XL, XLS | 6 Cyl 3.0L | 1MZFE; 1MZFE; MCX10 |
| 1999 | Toyota | Camry | CE, LE | 4 Cyl 2.2L, 6 Cyl 3.0L | 1MZFE, 5SFE; 1MZFE, 5SFE; MCV20, SXV20 |
| 1999 | Toyota | Celica | GT, ST | 4 Cyl 2.2L | 5SFE; 5SFE; ST204 |
| 1999 | Toyota | Corolla | CE, LE, VE | 4 Cyl 1.8L | 1ZZFE; 1ZZFE; ZZE110 |
| 1999 | Toyota | Land Cruiser | | 8 Cyl 4.7L | 2UZFE; 2UZFE; UZJ100 |
| 1999 | Toyota | RAV4 | Conductive, Inductive | 4 Cyl 2.0L, Electric | 3SFE, EM; 3SFE, EM; BEA11L-AWDFSA, BEA11L-AWDHSA, SXA10, SXA11, SXA15, SXA16 |
| 1999 | Toyota | Solara | | 4 Cyl 2.2L | 5SFE; 5SFE; SXV20 |
| 1999 | Toyota | Tacoma | DLX, SR5 | 4 Cyl 2.7L EFI, 6 Cyl 3.4L EFI | 3RZFE, 5VZFE; 3RZFE, 5VZFE; RZN161L-TRMDKAB, RZN161L-TRPDKAB, RZN171L-CRMDKAB, RZN171L-CRPDKAB, RZN191L-TRPDKAB, RZN196L-CRPDKAB, VZN150L-CRSDKAB, VZN170L-CRMDKAB, VZN170L-CRMGKAB, VZN170L-CRPDKAB, VZN170L-CRPGKAB, VZN195L-CRPDKAB |
| 1998 | Toyota | 4Runner | LULI, SR5B, SR5V | 4 Cyl 2.7L, 6 Cyl 3.4L | 3RZFE, 5VZFE; 3RZFE, 5VZFE; RZN180, RZN185, VZN180, VZN185 |
| 1998 | Toyota | Avalon | XL, XLS | 6 Cyl 3.0L | 1MZFE; 1MZFE; MCX10 |
Show More