Genuine Toyota PTR29-35120
TRD Supercharger Fit Kit
For Toyota Tacoma 2006-2015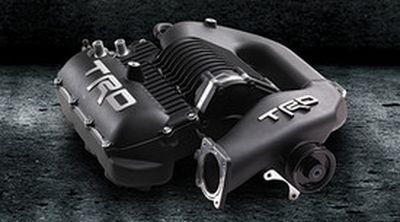 Features air-to-liquid intercooler with a low-temperature radiator, coolant reservoir and circulation pump, delivering improved engine response and power output.
Intercooler provides higher performance and better fuel economy, as well as improved passing power and towing capacity than non-intercooled superchargers, restoring sea level performance when at altitude.
Produces 304 hp @ 5,400 rpm and 334 lb.-ft. torque @ 3,600 rpm (from 236 hp @ 5,200 rpm and 266 lb.-ft. @ 4,000 rpm Tacoma.Performance improvements validated using SAE testing standards.
Integral by-pass valve prevents supercharger from going into "boost" when driving at a steady state of speed such as on the highway or light traffic. Takes less than ½ hp to operate when by-pass valve is open, helping reduce parasitic drag from the crankshaft.
Kit includes 455cc fuel injectors for increased power output, iridium spark plugs for better detonation resistance—ensuring proper fuel delivery when using supercharger system at full capacity.
Integrates factory calibration of ECU for optimal fuel mileage when combined with torque/horsepower increase.
All OE hose connections accommodated and OE throttle body bolts to original location.
Complete kit includes all necessary hardware for "factory installed" appearance. No cutting, welding or fabrication required for installation.
Supercharger has self-contained lubrication, so there's no maintenance required on supercharger—or supercharger system components.
Emissions legal in all 50 states
Warranty is the same as other TRD powertrain components: 12 months or 12,000 miles or the balance of the 5 year/60,000 new car powertrain warranty, whichever is greater, when installed by an authorized Toyota dealer. Superchargers installed by anyone other than an authorized Toyota dealer are warranted for 12 months or 12,000 miles.
Manufacturer's Notes: This part is discontinued. It is no longer available for purchase.
Vehicle Specific
Check if it fits by entering your vehicle info
Vehicle Fitment
| Make | Model | Year | |
| --- | --- | --- | --- |
| Toyota | Tacoma | 2015 | |
| Toyota | Tacoma | 2014 | |
| Toyota | Tacoma | 2013 | |
| Toyota | Tacoma | 2012 | |
| Toyota | Tacoma | 2011 | |
| Toyota | Tacoma | 2010 | |
| Toyota | Tacoma | 2009 | |
| Toyota | Tacoma | 2008 | |
| Toyota | Tacoma | 2007 | |
| Toyota | Tacoma | 2006 | |
View More
Toyota Accessories at Toyota Parts Prime, Your Right Choice
Your vehicle needs the right genuine Toyota accessories to ensure peak performance. By buying Toyota part# PTR29-35120 TRD Supercharger Fit Kit, you made the smart choice. It is also known as
Superchargers
.
This accessory fits certain Toyota
Tacoma
models. Toyota Parts Prime is your #1 source for OEM Toyota accessories with a speedy delivery. We have dedicated service agents to help with your needs for automotive.
Buy with Confidence
Dedicated Service

We have experienced professionals here to help you via phone, live chat or email.

Lowest Prices

We offer genuine OEM parts at the best possible discounted prices online.

Fast Delivery

Your orders are processed efficiently and delivered as promptly as possible.